Stock Designs & Artwork Requirments
View and download a wide variety of custom coin templates for you custom coin order.
Stock Designs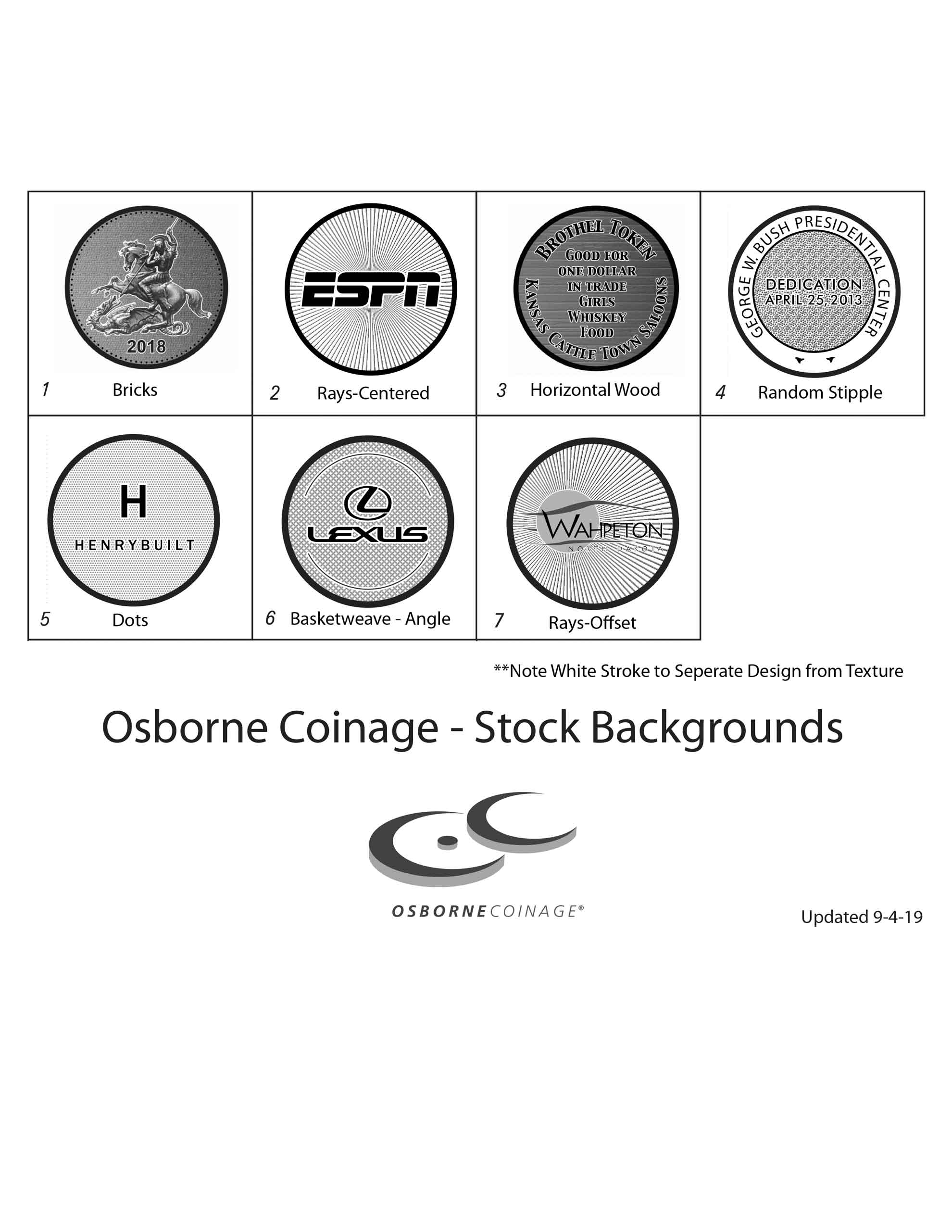 Stock Backgrounds
View and Download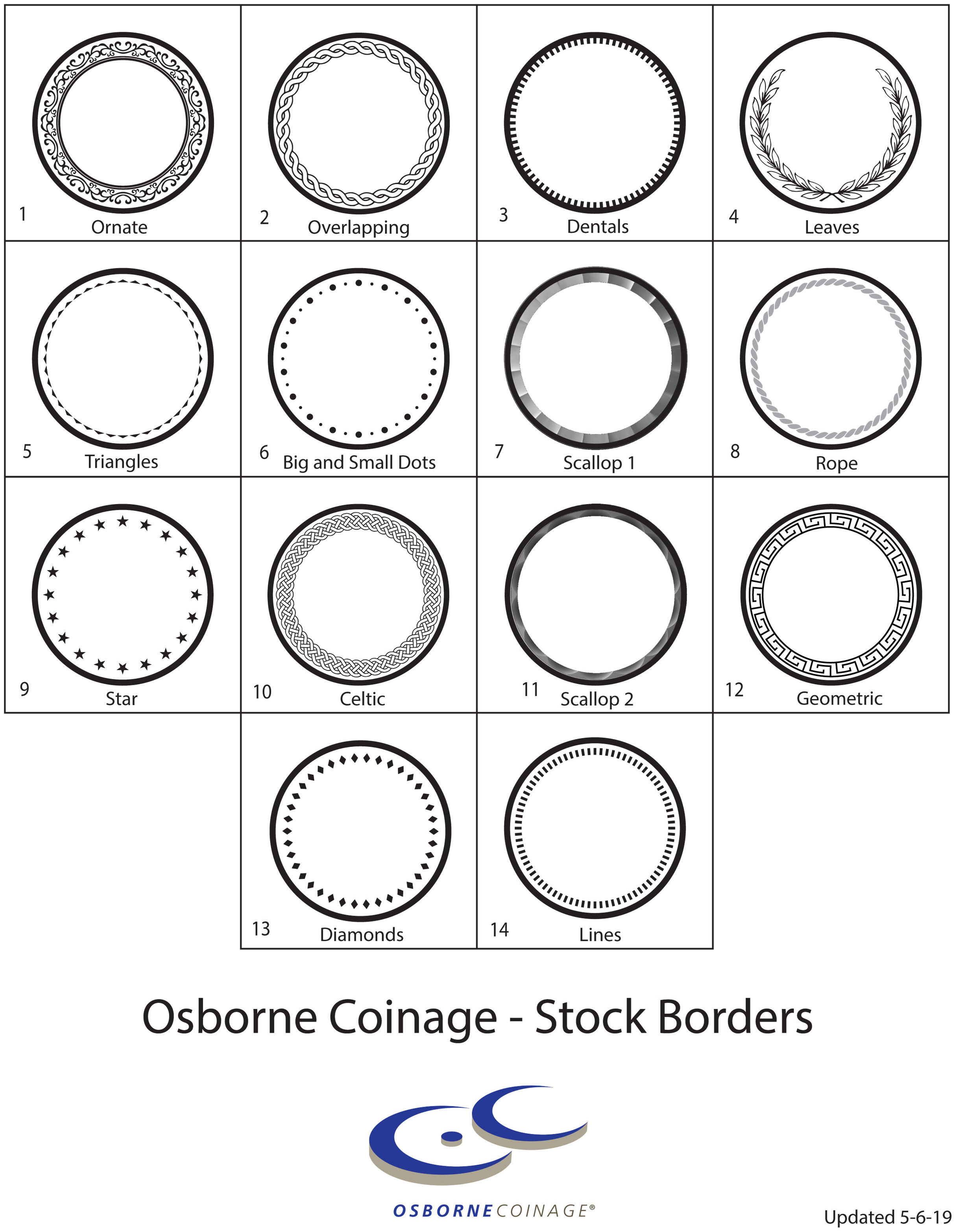 Stock Borders
View and Download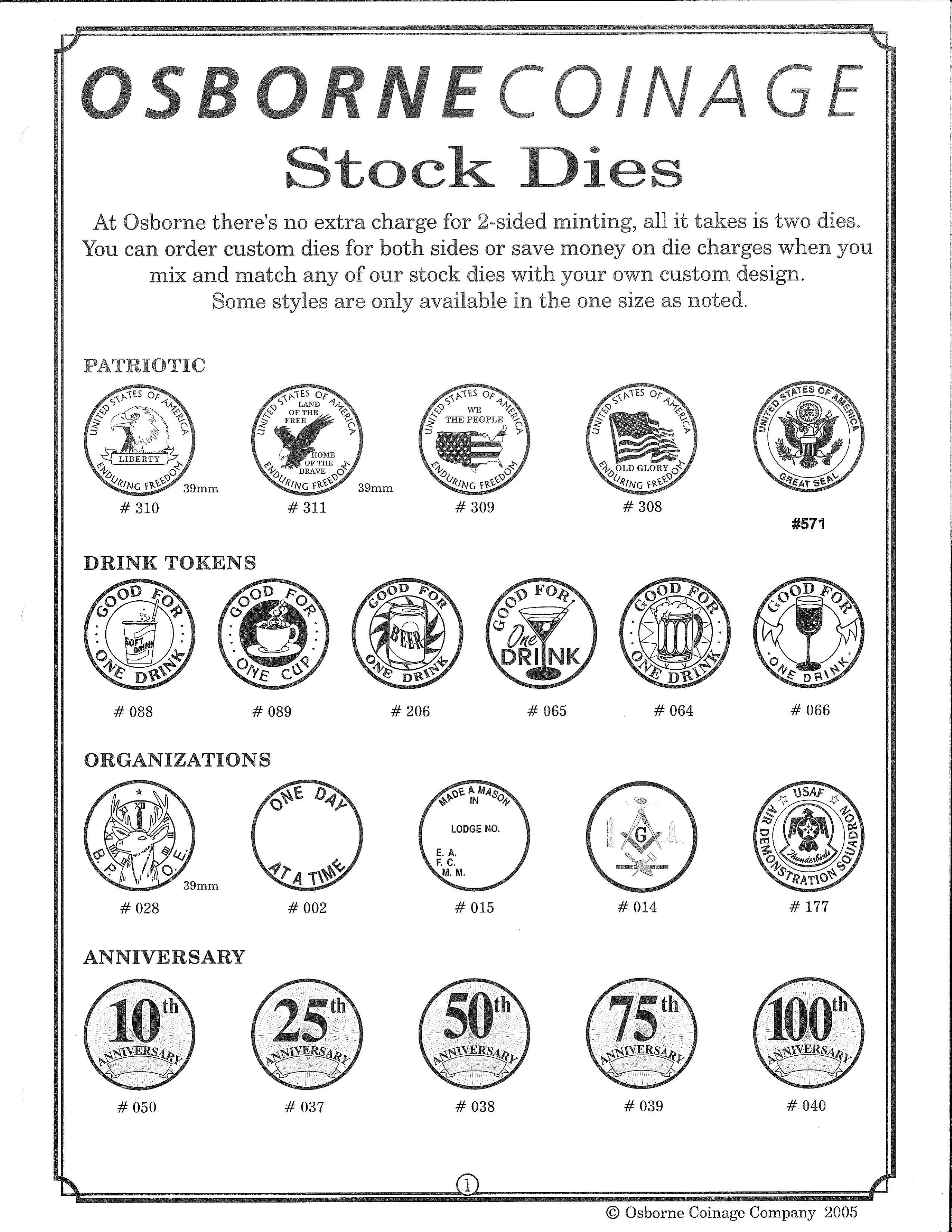 Stock Dies
View and Download
Artwork Requirements
Email Address
EMAIL – You can email file attachments to artwork@osbornecoin.com. Please include your company name in the subject line. Please contact sales at 1-800-488-2646 if you have questions about your file size.
Artwork Information
All artwork shown in black will be raised on the coin.
Providing vector artwork will minimize art charges and produce the best finished product.
Vector file extensions are typically .AI (Adobe Illustrator) or .EPS.
All fonts must be outlines.
.JPG, .BMP, .TIF, .GIF, and .PSD files must have a minimum resolution of 300 dpi (dots per inch).
No Microsoft Word, PowerPoint, and Publisher, or Quark files will be accepted.
All coin artwork is preferred in an IBM PC Compatible format. Macintosh files should be saved in a PC format when possible.
If you have an idea but no camera ready artwork, sketch it out and send it to us. We'll let you know the in-house art charges.
Hints for Achieving the Best Looking End Product
Be sure to proof your coin artwork at actual coin size. Things look very different when you shrink them down and engrave the coin. If you can read a word in print, you can read it on a coin.
Please review all artwork carefully. Changes made after a die is started may require engraving a complete new die at the customer's expense.
For busts (portraits) and detailed scenes (landscape, bridges, buildings etc) our engravers require line art as well as a photograph for reference.
Half tones and shading cannot be reproduced on a custom engraved coin and should be eliminated.
Simplify your project by having Osborne's experts prepare your artwork with our custom coin engraving. We offer typesetting, touch up and photo conversion.
Pricing
| Service | Price | Quanity |
| --- | --- | --- |
| Typeset and send paper proof | $25 | 1 or 2 sides |
| Clean up low resolution digital files and add curved copy | $50 | per side |
| Re-illustrate photo as coin-ready vector images | $100 | per side |
| New design including some internet research | $125 | per side |
| Changes made after 2 revisions | $50 | |